REAL ID Effective Date Delayed Until May 3, 2023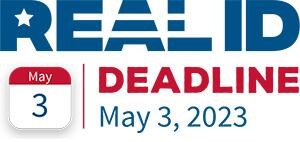 The Department of Homeland Security is extending the REAL ID full enforcement date from October 1, 2021 to May 3, 2023 due to the ongoing COVID-19 pandemic. The Department cited the pandemic's impact on states' ability to issue REAL ID-compliant driver's licensing agencies as reason for the delay. 
Due to the change, Pennsylvanians will need a REAL ID-compliant driver's license, photo ID card, or another form of federally acceptable identification (such as a valid passport or military ID) to board a domestic commercial flight or enter a federal building or military installation that requires ID beginning May 3, 2023.
REAL IDs are now available to Pennsylvanians who want them. To learn more about whether you need a REAL ID and how to obtain one from the state Department of Transportation, click here.