Want a website? PSATS can help make it happen!
A website is pretty much a necessity these days. Residents want information when they want it, and providing it online can save townships time and money. Developing a website from scratch, however, can be intimidating, and working with a contractor can be costly.
That's why PSATS has developed a new, affordable service to help make starting a website a snap.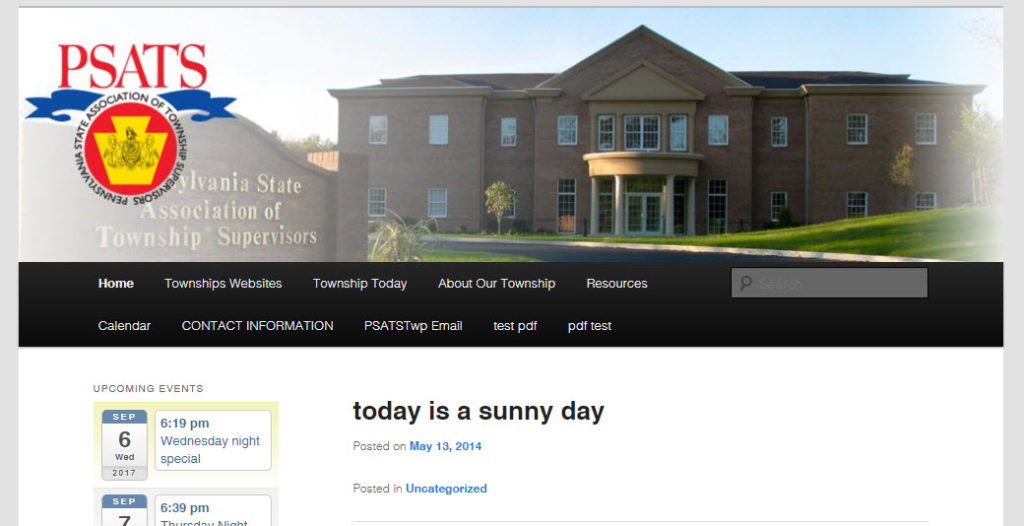 How it works
---
---
PSATS will host your website at PSATStwp.org. We manage the servers and your site's connection to the Internet.
PSATS provides you with 1 gigabyte of storage space. That's enough to meet the needs of a well-populated website, but additional space is available for a nominal fee of $12 per year.
Participating townships will have a Web address of PSATStwp.org/"your county name"/"your township name". You may abbreviate your township name if it's too long.
Once we receive your startup fee, PSATS will be in touch with your contact person to get the ball rolling.
If you do not have someone to design your website, PSATS will provide a comprehensive Web page template in WordPress for you to populate. WordPress is an easy-to-use platform that has become a favorite for websites and blogs in recent years.
Your township will be responsible for maintaining the content on your website once the site is set up and ready to go.
Click Here to see examples of what other townships have done on our hosting site
What it costs
---
---
You can have an affordable Web presence through PSATS at the following rate structure:
$240 annual subscription fee (that's just $20 per month) with a one-time set-up charge of an additional $200. This price includes one gigabyte of storage.
$12 a year optional fee for each additional gigabyte of storage as needed.
How to get started
---
---
Click here to download a brochure and registration form. Complete the form, submit it to PSATS with your payment, and we'll contact you to get the process started.
If you have questions, please contact Andrew Mummert, PSATS director of information technology, at amummert@psats.org or (717) 763-0930.