Citizen Communication Contest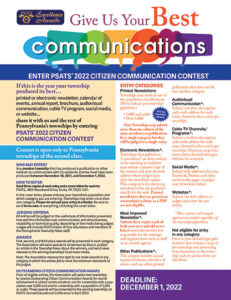 Purpose: To recognize member townships for their efforts to communicate with residents. PSATS has been doing just that for 54 years.
Eligible Entrants: PSATS member townships that publish print or electronic newsletters and other publications; have a website or use social media; or develop audiovisual content for cable TV or online channels.
Awards: Thirty-one awards in eight categories are up for grabs, and the winners receive a framed certificate and coverage in the Township News. All entrants also compete for the annual Outstanding Citizen Communication Award, which is presented at PSATS' Annual Conference to two townships (one with a population over 5,000 and one with a population of 5,000 or under) that show an exceptional commitment to keeping their residents informed.
Deadline: December 1, 2023
For more information:
Check back soon for guidelines for the 2023 Citizen Communication Contest.
Contact Hanna Martin, PSATS Associate Editor, phone (717) 763-0930, ext. 129, email hmartin@psats.org.