PSATS Youth Awards
Purpose: To recognize youth groups that make valuable and lasting contributions to improve life in Pennsylvania's townships of the second class. The awards program encourages greater youth involvement in township government.
Eligible Entrants: All youth groups, such as 4-H clubs, Scout troops, school groups, and civic service club youth organizations from elementary school through grade 12, are eligible. The association of township officials in the entrant's county must sign off on the project before submission. The county association may initiate the nomination or the youth group may submit the project to the county association for consideration.
Eligible projects must have been undertaken during the contest year, March 1 to February 28. Multi-year, ongoing projects also are eligible provided part of the project occurred during the contest year.
The project must have a major impact on townships of the second class and should provide youth group members with the opportunity to increase their knowledge of township government as well as develop a sense of personal and group achievement. Projects also should enhance the group members' communication skills, their understanding of the decision-making process, and citizenship responsibilities.
The following is a list of some eligible projects and ideas:
Services to the elderly, unemployed, and other vulnerable populations, such as shopping, holding food drives, etc.
Supporting health care workers, first responders, and other front-line workers by offering food, words of encouragement, or other services.
Community beautification, clean-up and fix-up of buildings, and litter clean-up projects;
Direct services to residents of the community, such as the elderly, children, the disabled and hospitalized, and the underprivileged;
Fund-raising projects for worthy causes;
Soil and water conservation, environmental protection, and recycling;
Voter registration and assisting in the election process;
Safety and recreation projects;
Projects that help to finance local government programs.
How to Enter: Flyers and promotional materials are mailed to townships, county associations, Boy and Girl Scout troops, and 4-H clubs statewide each spring. The guidelines and entry form are available to download each spring.
To enter, a group must complete the official form and have it signed by the group's youth project or activity chairman, the group's volunteer leader, and the chairman of the township board of supervisors. For online submissions, groups may also upload digital copies of signatures.
Entrants must then submit the entry form along with documentation of the project to their respective county association of township officials for the president's signature.
Submit entries using the form below or via mail to: PSATS, c/o Hanna Martin, 4855 Woodland Drive, Enola, PA 17025
Judging Criteria: To be eligible, all projects must involve youth in the planning and implementation. They must have a major impact on townships of the second class and should provide the youth group members with an opportunity to "learn by doing."
Awards: Four winners will be chosen to receive a framed certificate, a cash award of $500, and coverage of their winning entry in the Association's monthly magazine, the Pennsylvania Township News, and in their local newspapers.
Deadline for Entry: January 31, 2024.
For more information:
Contact Hanna Martin, PSATS Associate Editor, phone (717) 763-0930, ext. 129, email hmartin@psats.org.

---
Past Years' Winners
2023 Youth Award Winners
2022 Youth Award Winners
2020-21 Youth Award winners
2019 Youth Award winners
2018 Youth Award winners
2017 Youth Award winners
2016 Youth Award winners
2015 Youth Award winners
2014 Youth Award winners

---
Guidelines and entry form (to download)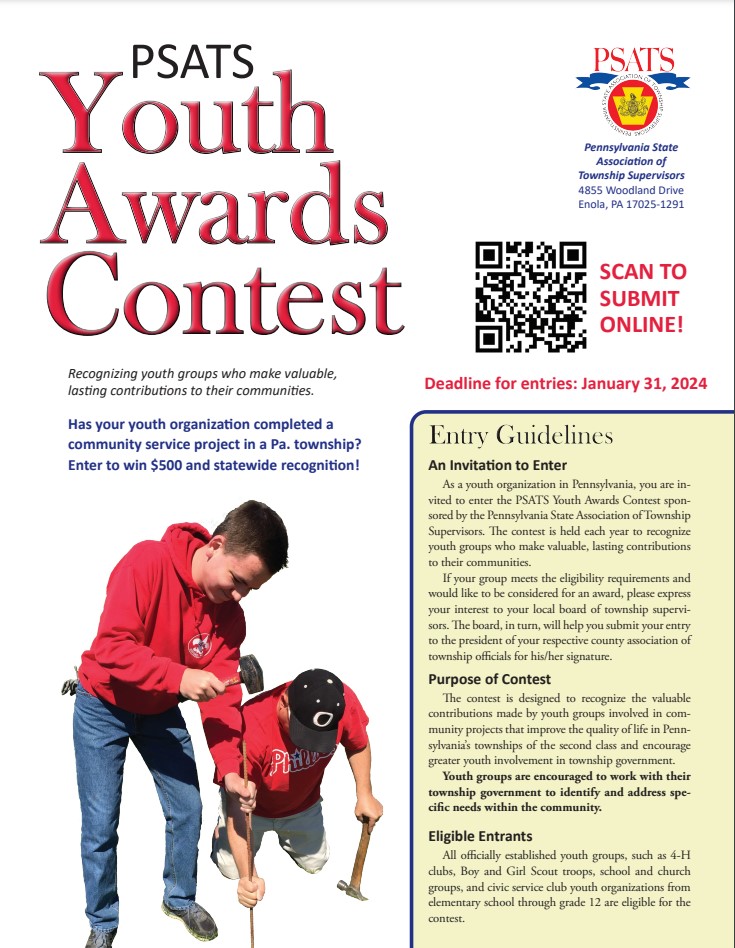 ---
Resources for townships and county associations (to download)
Promotional flyer (PDF)
Newsletter article (Word)
Newsletter article (PDF)
Sample news release (Word)
Sample news release (PDF)
Ad for newsletters/website/social media (JPEG)
Ad for newsletters/website/social media (PDF)
---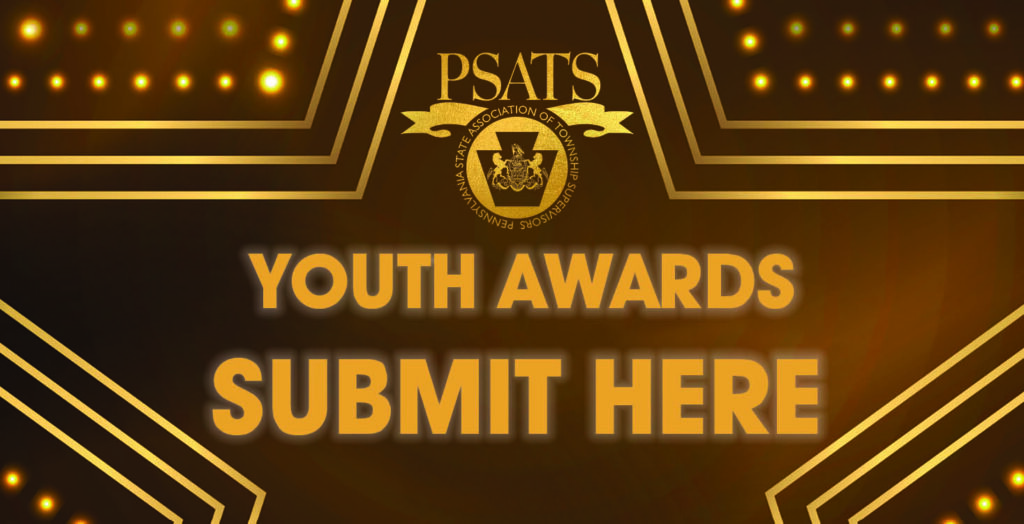 Youth Award Submission