In the June 2021 Township News…
---
---
Pa. Township News | Current Issue | Display Ads | Classified Ads | Circulation | Editorial Calendar | Subscription | Archives
Here's a look at what you'll find in the current issue of the Pennsylvania Township News. Not yet a subscriber? Click here to learn how you can receive this award-winning magazine every month.
---
'PSATS Live' is Back! Although PSATS successfully adapted
Although PSATS successfully adapted to present virtual classes during the pandemic, it is now gearing up for a return to in-person training and looking forward to providing its members with opportunities for instruction and interaction. Click here for this month's free article.
Taming the Time Beast
If you feel like you're spinning your wheels day after day and not getting much done, take heart: Anyone can learn to manage their time better with some upfront planning, organizing, and prioritizing.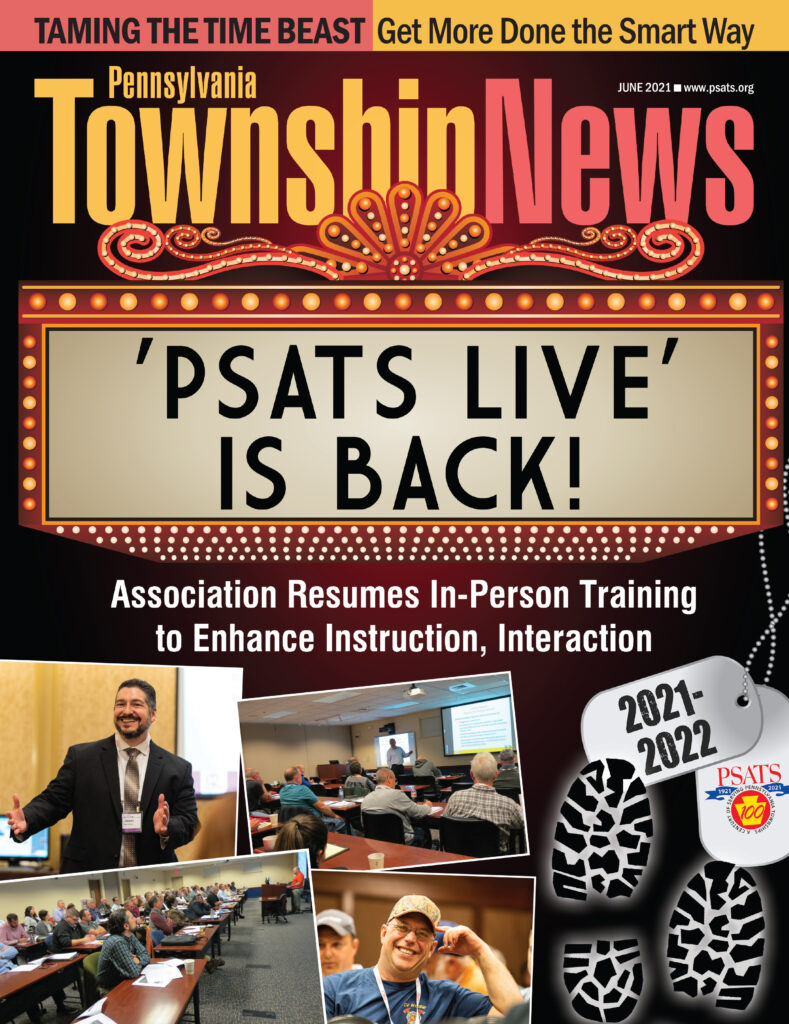 Navigating the American Rescue Plan
Read the latest guidance on how your township can spend the federal dollars it will be receiving this month.
Engage with Data through Story Maps
Story maps, the latest application in the geographic information system (GIS) world, combine data, graphics, text, and maps to tell an engaging digital story.
Celebrating PSATS' Centennial: Did You Know?
Leading up to PSATS' Centennial Celebration in October, the Association shares some memories from its 100-year history. PSATS leaders pause to celebrate the 100th birthday, and we look back at PSATS' office space over the decades.
TEMA: Setting the Tone for Safety
Township supervisors, who are tasked with securing the health, safety, and welfare of their citizens, should take some basic steps to enhance safety and improve emergency management preparedness.
To Mow or Not to Mow: The Benefit of Meadows
If your township has a lot of parks and public areas planted in grass, perhaps it's time to consider planting a meadow and reaping the benefits, including lower maintenance costs and better flood control.
---
Regular Features:
---
---
From the Executive Director
The Association
Legislative Update
Sidebar
In Short
Financially Speaking
PSATS Educational Workshops
Pa. Construction Codes Academy Courses
Newsworthy
LTAP Workshops
County Association Conventions
Show Me the Money!
Supervisor Hall of Fame
Secretary Hall of Fame
Professional Services
Ad Index
Questions & Answers
---
Pa. Township News Online Archive
---
---
Those who purchase a Pa. Township News Archive also have access to our online archive. With just a few clicks, access issues of the Township News through 2019 in PDF format. You will need to know your PSATS Portal login ID and password to use the link below.
To access the Township News Online Archive, click here to sign into your PSATS account. Once you are signed in, go to the "My PSATS Profile" drop down and click on "Digital Publications."
---
Pa. Township News Archive
---
---
Whether you're a Township News subscriber or not, you can order a full year of the Township News archive, from 2004 through 2019. Get answers by browsing through the PDF files for each information-packed issue, save time by using the handy archive and index, and save space by replacing back issues of the magazine with the archive.