In the September 2021 Township News…
---
---
Pa. Township News | Current Issue | Display Ads | Classified Ads | Circulation | Editorial Calendar | Subscription | Archives
Here's a look at what you'll find in the current issue of the Pennsylvania Township News. Not yet a subscriber? Click here to learn how you can receive this award-winning magazine every month.
---
Remembering 9/11 and Its Legacy
Twenty years after a hijacked plane crashed in an empty field in Township, Somerset County, those impacted by the events of the three-pronged terorist attack recall that tragic day and what has happened in the two decades since. Click here for this month's free article.
EMS Workers Soldier on During the Pandemic
Long plagued by low recruitment, inadequate funding, rising costs, and now a global pandemic, EMS providers continue to bring health care to their communities.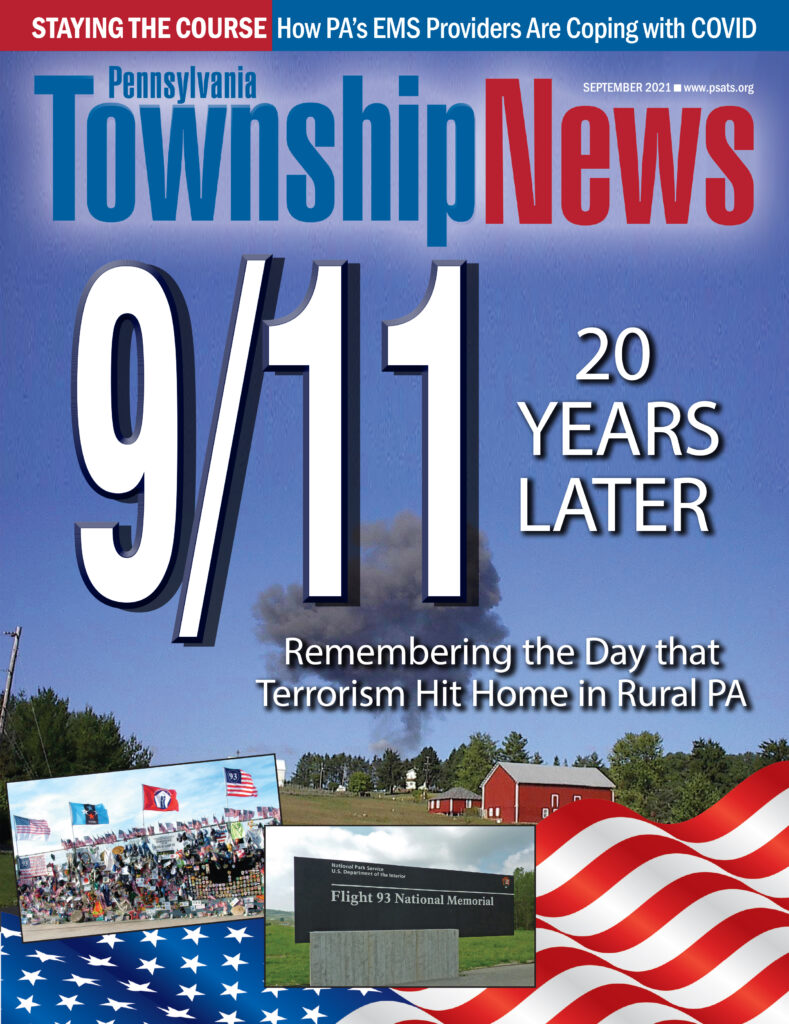 9/11 Proved Emergency Readiness Matters
The events of 9/11 helped to ensure that emergency responders are ready for whatever disaster or emergency occurs on their watch.
Township Weathers Public Safety Challenges
Upper Merion Township in Montgomery County had its emergency management plan tested while facing multiple public safety challenges in 2020 — all in the midst of the pandemic.
PA Gears Up for Redistricting
In testifying about congressional reapportionment, PSATS urges lawmakers to try to keep entire municipalities within one district.
Celebrating PSATS' Centennial: Co. Associations
Many county associations pre-date the founding of PSATS and have been holding county conventions for 100-plus years.
Escape from COVID-19 Townships located near parks, forests,
Townships located near parks, forests, and other recreational opportunities are benefiting from a pandemic-driven surge to the outdoors.
---
Regular Features:
---
---
From the Executive Director
The Association
Legislative Update
Sidebar
In Short
Financially Speaking
PSATS Educational Workshops
Pa. Construction Codes Academy Courses
Newsworthy
LTAP Workshops
County Association Conventions
Show Me the Money!
Supervisor Hall of Fame
Secretary Hall of Fame
Professional Services
Ad Index
Questions & Answers
---
Pa. Township News Online Archive
---
---
Those who purchase a Pa. Township News Archive also have access to our online archive. With just a few clicks, access issues of the Township News through 2019 in PDF format. You will need to know your PSATS Portal login ID and password to use the link below.
To access the Township News Online Archive, click here to sign into your PSATS account. Once you are signed in, go to the "My PSATS Profile" drop down and click on "Digital Publications."
---
Pa. Township News Archive
---
---
Whether you're a Township News subscriber or not, you can order a full year of the Township News archive, from 2004 through 2019. Get answers by browsing through the PDF files for each information-packed issue, save time by using the handy archive and index, and save space by replacing back issues of the magazine with the archive.