---
In the January 2022 Township News…
---
Pa. Township News | Current Issue | Display Ads | Classified Ads | Circulation | Editorial Calendar | Subscription | Archives
Here's a look at what you'll find in the current issue of the Pennsylvania Township News. Not yet a subscriber? Click here to learn how you can receive this award-winning magazine every month.
---
How to Survive Your First Year in Office
Seasoned local officials offer their advice to help new township supervisors successfully make the leap from private to public life. Click here for this month's free article.
Make Plans to Come 'Together Again' April 24-27
Get a sneak peek at what's in store for PSATS' 2022 Conference when members will gather "Together Again" in Hershey after two years of canceled conferences. Registration opens January 11.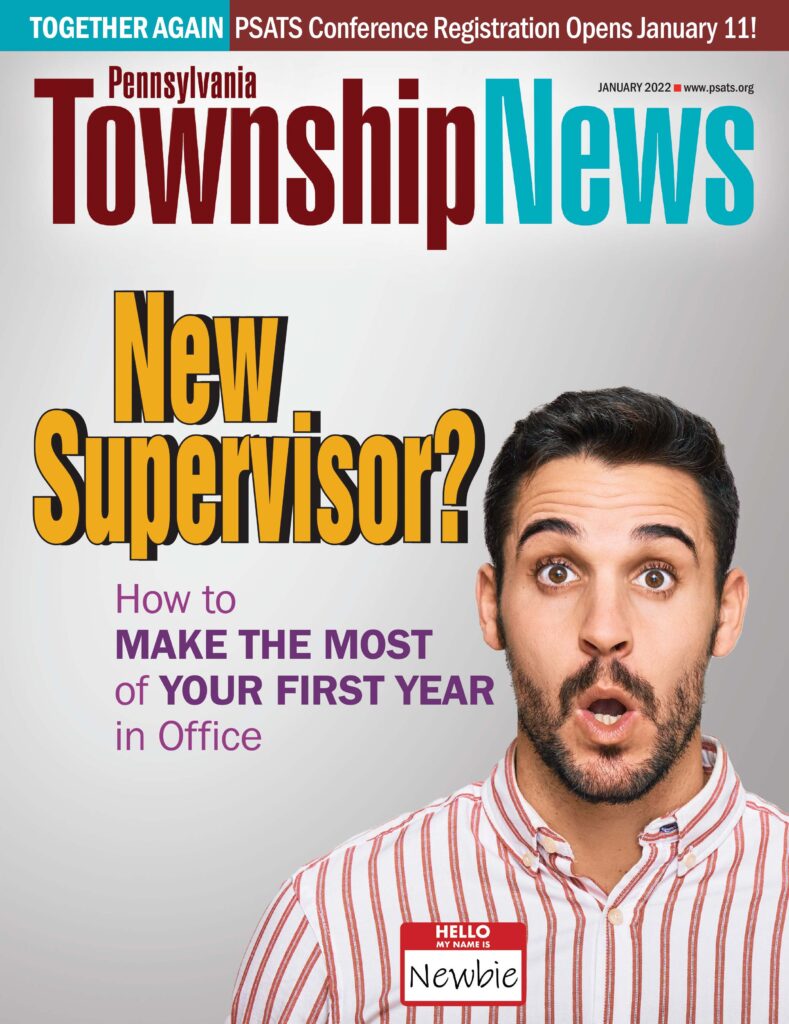 Standing Committees Take Care of Business
PSATS' standing committees met at various times this fall to brainstorm, set priorities, and offer ideas for the Association's future.
Community Volunteers Are Making a Difference
Three townships in Pennsylvania are among the winners of the Small-Town America Civic Volunteer Awards, a national contest designed to shine a spotlight on the important role that citizen volunteers serve in their communities.
Local Leader to Legislator: Rep. Brett Miller
In this new column, the News talks to Rep. Brett Miller, a former East Hempfield Township supervisor in Lancaster County, about his jump from local to state office. Many of the issues are the same, he says, just on a broader scale.
---
Regular Features:
---
---
From the Executive Director
The Association
Legislative Update
Sidebar
In Short
Financially Speaking
PSATS Educational Workshops
Pa. Construction Codes Academy Courses
Newsworthy
LTAP Workshops
County Association Conventions
Show Me the Money!
Supervisor Hall of Fame
Secretary Hall of Fame
Professional Services
Ad Index
Questions & Answers
---
Pa. Township News Online Archive
---
---
Those who purchase a Pa. Township News Archive also have access to our online archive. With just a few clicks, access issues of the Township News through 2021 in PDF format. You will need to know your PSATS Portal login ID and password to use the link below.
To access the Township News Online Archive, click here to sign into your PSATS account. Once you are signed in, go to the "My PSATS Profile" drop down and click on "Digital Publications."
---
Pa. Township News Archive
---
---
Whether you're a Township News subscriber or not, you can order a full year of the Township News archive, from 2004 through 2021. Get answers by browsing through the PDF files for each information-packed issue, save time by using the handy archive and index, and save space by replacing back issues of the magazine with the archive.