---
In the November 2022 Township News…
---
Pa. Township News | Current Issue | Display Ads | Classified Ads | Circulation | Editorial Calendar | Subscription | Archives
Here's a look at what you'll find in the current issue of the Pennsylvania Township News. Not yet a subscriber? Click here to learn how you can receive this award-winning magazine every month.
---
Winter Preparedness
As the mercury slowly drops over the coming weeks, townships across the commonwealth are preparing for winter road
maintenance duties. Check the boxes and learn what it takes to ensure your township is ready once the first flakes stick to roadways. Click here for this month's free article.
Membership Has Its Privileges
Partnering with PSATS can bring many benefits to townships. Educational opportunities, legislative advocacy, networking
opportunities, and a multitude of informational outlets make having a PSATS membership a must for townships of every size.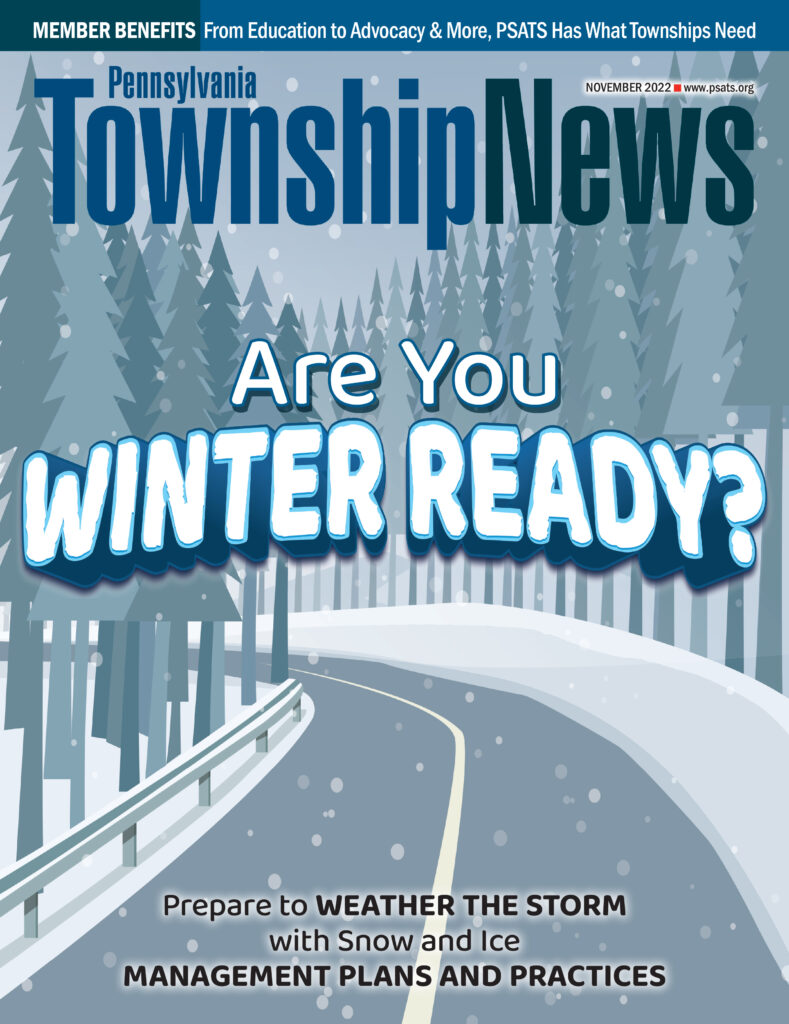 Annual Organization Meeting
The first meeting of the year for township supervisors can be a busy one. Township News has a
detailed checklist of suggested actions to assist you in setting an agenda ahead of the Tuesday, January 3, meeting date.
From Local Leader to Legislator
Rep. Keith Greiner learned the value of communication while serving as a township supervisor in
Upper Leacock Township in Lancaster County. He credits that experience, coupled with a commitment
to the community, with his ability to effectively serve the 43rd District.
Planning for Retirement
Townships can reward valued employees as well as entice quality candidates with a pension and/or
retirement plan. PSATS Trustees Insurance and Retirement Services can assist townships with the
crafting of a plan that is rewarding to both the municipality and employees, no matter the size of the township.
---
Regular Features:
---
---
From the Executive Director
Association Officers/Committees
Legislative Update
Financially Speaking
PSATS Educational Workshops
LTAP Workshops
Newsworthy
County Association Conventions/Officers
Show Me the Money!
Supervisor/Secretary Hall of Fame
Professional Services
Questions & Answers
Classifieds/Ad Index
---
Pa. Township News Online Archive
---
---
Those who purchase a Pa. Township News Archive receive access to our online archive. With just a few clicks, access issues of the Township News through 2021 in PDF format. You will need to know your PSATS Portal login ID and password to use the link below.
To access the Township News Online Archive, click here to sign into your PSATS account. Once you are signed in, go to the "My PSATS Profile" drop down and click on "Digital Publications."
---