---
In the July 2022 Township News…
---
Pa. Township News | Current Issue | Display Ads | Classified Ads | Circulation | Editorial Calendar | Subscription | Archives
Here's a look at what you'll find in the current issue of the Pennsylvania Township News. Not yet a subscriber? Click here to learn how you can receive this award-winning magazine every month.
---
Discovering Pennsylvania's State Parks
Use of Pennsylvania's 300,000 acres of state parks surged during the pandemic, with outdoor recreation still remaining popular.
Discover how townships are handling increased park use and the
economic benefits of nature tourism. Click here for this month's free article.
Digital Document Transformation
Antiquated paper document management systems put crucial records at risk. Protect your records and save your township staff time and money with a digital document management solution.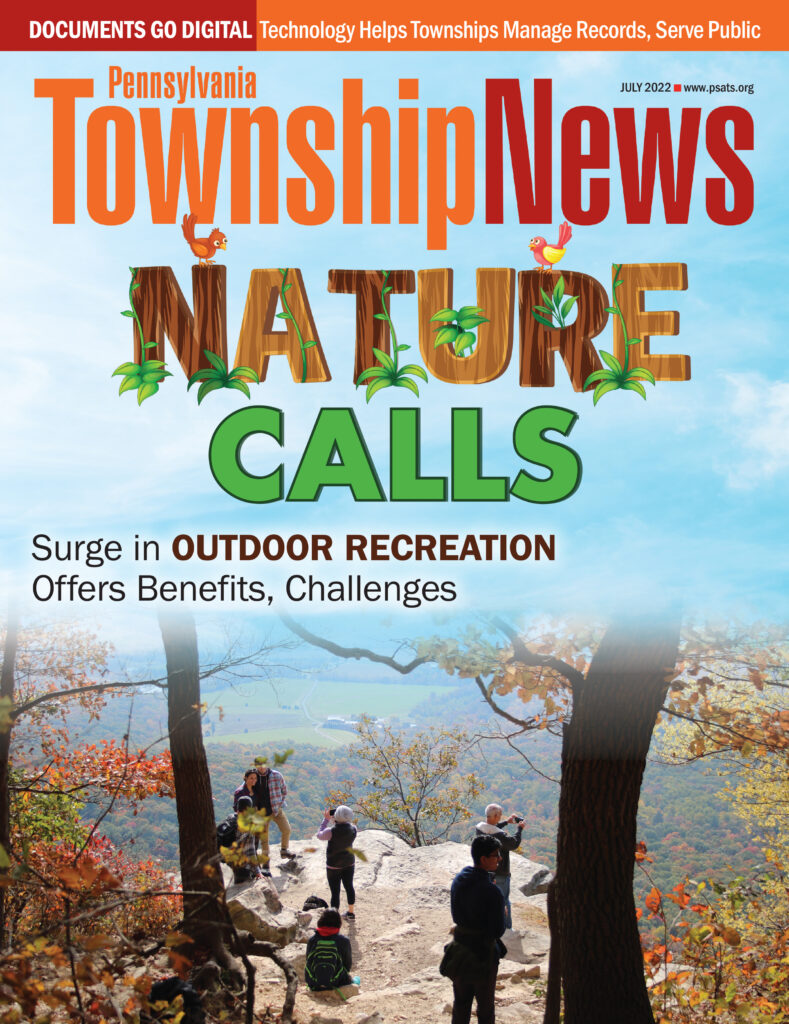 Preparing for the U.S. Semiquincentennial
Learn about the press event hosted by America250PA as it continues preparations for the nation's 250th birthday in 2026.
Tackling Your To-Do List
Life as a township administrator can sometimes feel chaotic. Learn how to better manage your time for increased productivity and less stress.
Making the Case for Stream Cleaning
In recent testimony, Deven Martin, a supervisor from Delmar Township in Tioga County, urged lawmakers to simplify extensive and expensive stream cleaning permitting processes.
From Local Leader to Legislator
A veteran and former supervisor for Hepburn Township in Lycoming County, Rep. Joe Hamm has stayed passionate about local government even after being elected to the House in 2020.
Got Fill? Learn the Rules for Proper Use
DEP's Management of Fill Policy has recently undergone some changes. We review the updated policy and what it means for townships.
---
Regular Features:
---
---
From the Executive Director
The Association
Legislative Update
Sidebar
In Short
Financially Speaking
PSATS Educational Workshops
Pa. Construction Codes Academy Courses
Newsworthy
LTAP Workshops
County Association Conventions
Show Me the Money!
Supervisor Hall of Fame
Secretary Hall of Fame
Professional Services
Ad Index
Questions & Answers
---
Pa. Township News Online Archive
---
---
Those who purchase a Pa. Township News Archive also have access to our online archive. With just a few clicks, access issues of the Township News through 2021 in PDF format. You will need to know your PSATS Portal login ID and password to use the link below.
To access the Township News Online Archive, click here to sign into your PSATS account. Once you are signed in, go to the "My PSATS Profile" drop down and click on "Digital Publications."
---
Pa. Township News Archive
---
---
Whether you're a Township News subscriber or not, you can order a full year of the Township News archive, from 2004 through 2021. Get answers by browsing through the PDF files for each information-packed issue, save time by using the handy archive and index, and save space by replacing back issues of the magazine with the archive.