---
In the February 2023 Township News…
---
Pa. Township News | Current Issue | Display Ads | Classified Ads | Circulation | Editorial Calendar | Subscription | Archives
Here's a look at what you'll find in the current issue of the Pennsylvania Township News. Not yet a subscriber? Click here to learn how you can receive this award-winning magazine every month.
---
Fighting Fraud and Corruption
Fraud and theft can be hard to detect. Townships can institute controls that may deter or even prevent such activities. Learn the steps you can take to help protect your township from this threat. Click here for this month's free article.
A Fresh Look at Unfunded Mandates
It's been more than a decade since a study detailed the burden unfunded mandates place on municipalities. Little legislative action has addressed the issue, so what can townships look forward to in the upcoming legislative session?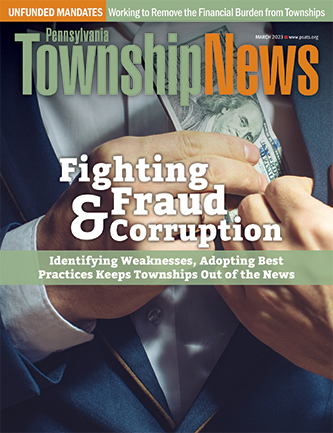 New Solar Guide for Local Leaders
A new guide for municipal officials explains the ins and outs of grid-scale solar development to help them make the best decisions for their communities.
Effective Grant Writing
Writing a grant application can be intimidating. Preparation can help townships land much needed funding from various grant sources.
The March edition also includes stories on The Pa. Broadband Development Authority, Municipal Civics, news about the upcoming 2023 Conference, and a profile on State Rep. Paul Takac Jr.
---
Regular Features:
---
---
From the Executive Director
Association Officers/Committees
Legislative Update
Financially Speaking
PSATS Educational Workshops
LTAP Workshops
Newsworthy
County Association Conventions/Officers
Show Me the Money!
Supervisor/Secretary Hall of Fame
Professional Services
Questions & Answers
Classifieds/Ad Index
---
Pa. Township News Online Archive
---
---
Those who purchase a Pa. Township News Archive receive access to our online archive. With just a few clicks, access issues of the Township News through 2022 in PDF format. You will need to know your PSATS Portal login ID and password to use the link below.
To access the Township News Online Archive, click here to sign into your PSATS account. Once you are signed in, go to the "My PSATS Profile" drop down and click on "Digital Publications."
---