Already Have a PSATS Account
---
Click for How to Reset Your Password
---
New to PSATS Portal?
Don't have a Portal Account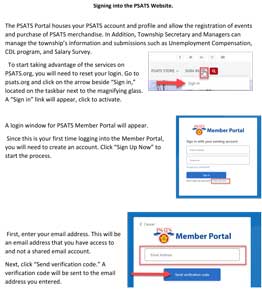 The PSATS Portal houses your PSATS account and profile and allows the registration of events and purchase of PSATS merchandise. In Addition, Township Secretary and Managers can manage the township's information and submissions such as Unemployment Compensation, CDL program, and Salary Survey.
To start taking advantage of the services on PSATS.org, you will need to reset your login. Go to psats.org and click on the arrow beside "Sign in," located on the taskbar next to the magnifying glass. A "Direct to Sign in" link will appear in the drop-down. Click to open the Member Portal Sign-in.
A login window for PSATS Member Portal will appear. Since this is your first time logging into the Member Portal, you will need to create an account. Click "Sign Up Now" to start the process.
First, enter your email address. This will be an email address that you have access to and not a shared email account.
Next, click "Send verification code." A verification code will be sent to the email address you entered.
Enter the verification code you received, a new password, Given Name (First Name), Surname (Last Name), and Display Name (Full Name. After complete, click on "Create."
To increase your security on the Internet, the password now needs to contain some restrictions. A password must have a lowercase letter, an uppercase letter, a number, and a symbol.
The next page that appears will be your profile. This gives you the ability to make sure your profile is correct. Some fields are not able to be changed or deleted. You can contact Member Services to have these fields edited.
If you are running into any issues, please contact memberservices@psats.org.