President's Leadership Award
Purpose: To recognize a township supervisor and a secretary or manager each year who have initiated significant programs or projects that have benefited their township and whose service to the township exhibits the highest standards of dedication, creativity, and leadership.
Examples of such achievements include local government cost-cutting, coordination of a major local volunteer effort, the advancement of township goals in the state or federal legislature, the establishment of new local services or programs, or the successful implementation of local development projects.
The winners are presented with an award in front of thousands of township officials at the Association's annual conference each spring in Hershey. They also receive coverage in the Pennsylvania Township News, the Association's monthly magazine.
Eligible Entrants: To be eligible for nomination, individual township supervisors, secretaries, and managers must have been in office or employed by the township in calendar year 2023 and must still be employed or in office at the time of the April 2024 award presentation. Supervisors and employees who plan to retire at the end of 2023 will not be considered.
Entrants must be from a member township of the State Association and nominated by an official of the same township or by an officer of their county association of township officials. An individual may be nominated for recent or lifetime achievements. Anyone who has been nominated for the award and did not win is eligible to be nominated again. Two winners will be selected: one supervisor and one secretary or manager. The Association reserves the right to decline to bestow an award in either or both categories if the nominations fail to meet the judges' minimum standards.
How to Enter: To nominate someone for the President's Leadership Award, you must fill out the form at the bottom of this page.
Documentation: Anyone making a nomination must submit at least two letters of recommendation from state legislators, county commissioners, civic leaders, or heads of organizations the nominee is involved with. You may also submit commendations, newspaper articles, township newsletters, videotapes, or any other proof of the nominee's accomplishments, as well as a photo of the nominee.
Judging Criteria: Entries will be judged on the complexity of the problem(s) addressed; measurable improvements resulting from the accomplishment; use of original, innovative, or creative approaches and solutions; and the long-term or lasting benefit of the nominee's accomplishments.
Deadline for Nominations: January 31, 2024
For more information:
Contact Hanna Martin, PSATS Associate Editor, phone (717) 763-0930, ext. 129, email hmartin@psats.org.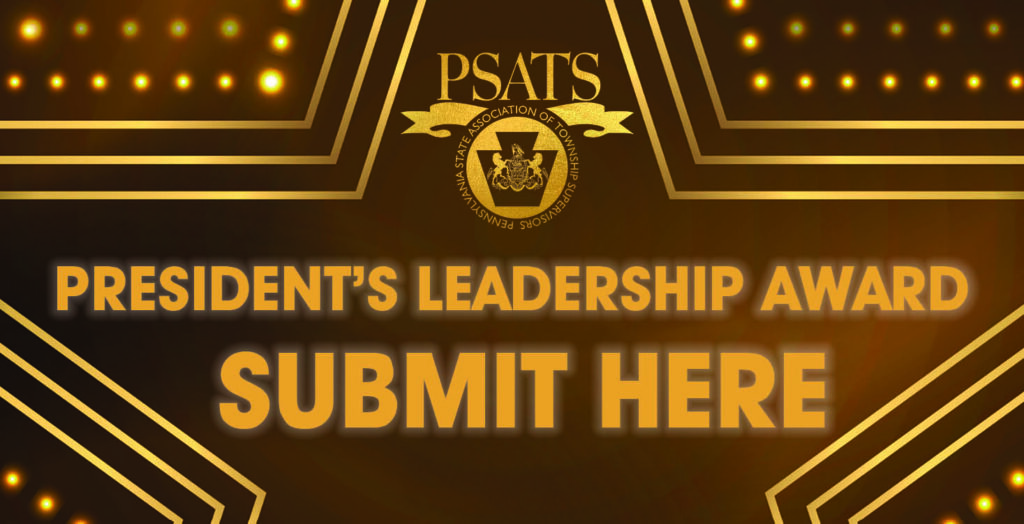 Leadership Award Submission