What is a county association of township officials?
---
---
Every county in Pennsylvania (except Philadelphia, which has no townships) has formed a county association of township officials as authorized by the Pennsylvania General Assembly. Members of these county associations meet regularly to discuss issues of local and regional importance. County associations also hold at least one conference each year, which includes training opportunities, guest speakers, and exhibits by vendors of local government goods and services.
See below for the county convention dates and county association officers. County convention dates will be posted as they become available.
Make your county convention the best it can be! Click the brochure for some tips.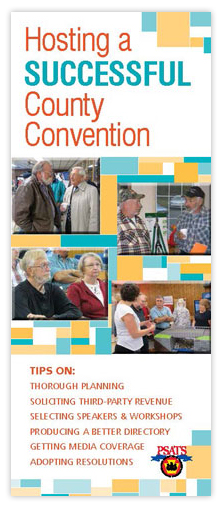 ---
County association officers: Let your local media know about your convention!
---
---
Show area residents how townships are working and learning together by inviting the local media to your county association's next convention.
You can get a head start by using the news release template below. Just fill in the blanks and add information pertinent to your convention to make it your own.
Tip: Ask your local media outlets if they would like to receive news releases by mail, fax, or email. If the answer is email, copy and paste the text from your release into an email. Be sure to include your contact information and a descriptive subject line.
---
2022 County Conventions
---
---
---