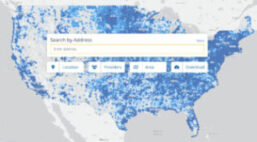 FCC Releases New Broadband Maps, Challenge Process Opens 
On Friday, the Federal Communications Commission released the draft of its new broadband maps and opened the mapping challenge process. PSATS urges township officials to look at the maps and share with their residents. The maps show both fixed and mobile broadband coverage, which was submitted by broadband providers. Anyone can submit an online challenge with the new, easy-to-use maps.
Click here to view the new maps.
Type in an address to view the available providers for a structure, if any. If no data is available because an address is missing from the map, a location challenge can be submitted by clicking on the map where the location should be. If the location of a residence or business is shown, it will provide available broadband options and speeds, as well as available mobile broadband options. If the information is incorrect, including providers with service to that location or available speeds, a challenge can be filed using the map. To learn more about how to submit challenges, click here. Challenges may be submitted on an ongoing, rolling basis. Click here for the press release and a fact sheet. Township officials interested in submitting bulk fixed challenges to the maps can learn more here.
The FCC also launched an updated version of the FCC Speed Test App that will enable users to quickly compare the performance and coverage of their mobile networks to that reported by their provider. The app allows users to submit their mobile speed test data in support of a challenge to a wireless service provider's claimed coverage. New users can download the FCC Speed Test App in both the Apple App Store and Google Play Store. Existing app users should update the app to gain these new features. Township officials should be aware that the final version of these maps will directly determine the federal broadband funding that Pennsylvania will receive. State allocations are expected to be announced by June 30, 2023.